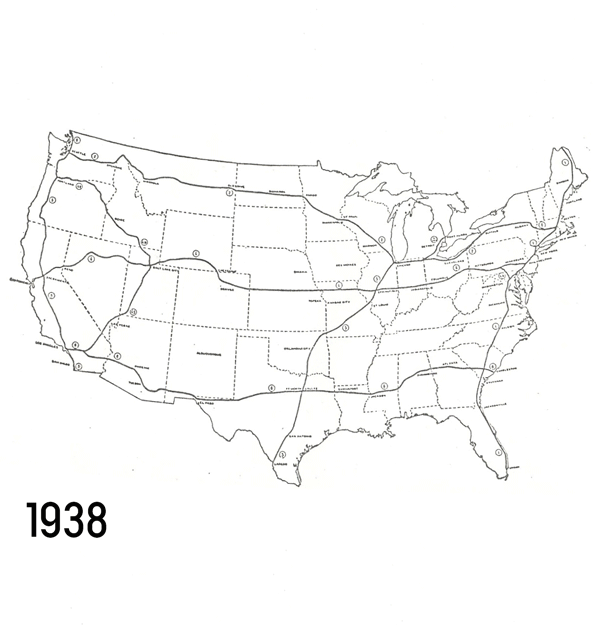 Past is Prologue
Born from the Federal Aid Highway Act of 1956, commuters in the United States have relied on a vast network of high capacity roadways known as the U.S. Interstate Highway System currently managed by the Federal Highway Administration "FHWA" under the U.S. Department of Transportation "USDOT". As of 2016, more than 48,000-miles of interstate highways cross the country (1) carrying almost 25% of all vehicle miles traveled in 2016. (2)
In the abstract, connecting America's cities for defense and commerce is a simple exercise of drawing lines on a map: connecting the dots around boundaries, lakes, and terrain. In reality, the construction of the interstate system was a painful and costly process that permanently altered the American urban and rural fabric. One that to this day, requires billions of dollars in new construction, studies, and maintenance (3), impacts the health and quality of life for up to 11% of homeowners in the U.S. (4) and contributes to the over 34,000 motor vehicle fatalities annually. (5)
Interstate Construction in Florida | Top: (1) I-75 Lake City 1962, (2) I-4 Orlando c.1960, (3) I-95 Miami c.1956, (4) I-4 Hillsborough County, Bottom: (5) I-275 Howard Frankland Bridge c.1960, (6) I-275 Tampa c.1963, (7) I-275 Pinellas County 1960, (8) I-275 Hillsborough County c.1960
Tampa's Urban Interstates
Since opening in the late 1950's and early 1960's, drivers in the City of Tampa have relied on an expansive system of urban interstates including 8-miles of I-4 through Ybor City, the roughly 11-mile north/south stretch of I-275, connecting the University of South Florida to Downtown Tampa, the roughly 6-miles of I-275 running West towards the Howard Frankland Bridge and eventually St. Petersburg, and the Downtown Interchange or "DTI" where all three converge.
Occasional maintenance projects aside, the north/south segment of I-275 and all its exits are largely the same configuration and footprint as after initial construction in the late 1950's — while serving an additional 831,438 in population as of 2010 (6). This number is expected to effectively double by 2050 (7). Both the east/west segment of I-275, I-4, and the DTI have been significantly widened or expanded since initial construction, devastating Tampa's ethnic and minority neighborhoods in West Tampa, Central Park, and Ybor City.
Model of I-275 and I-4 including Downtown Interchange and Ashley Drive Exit c.1958 (Tampa, FL)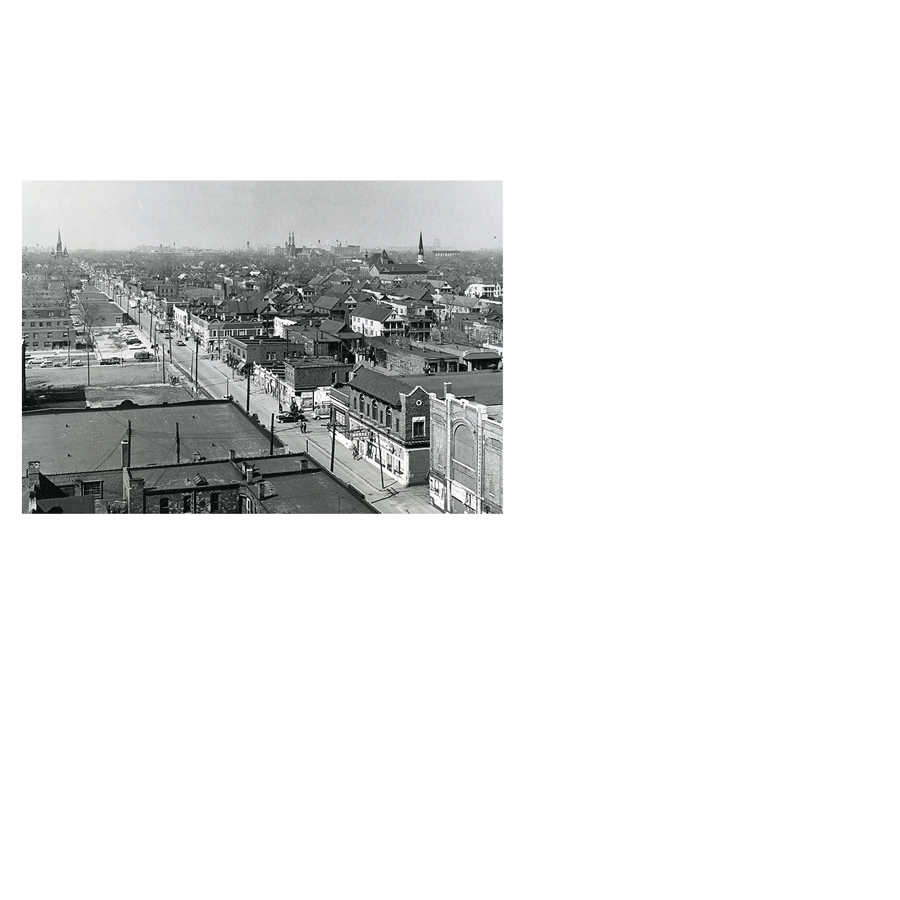 Divided Highway
In addition to carrying drivers, tourists, and freight, the interstate highway system, designed to connect cities regionally and growing suburbs to city centers locally, devastated urban America's minority neighborhoods, the environment, and fueled suburban sprawl in the process. Often, with supporting infrastructure contributing equally to roadway construction itself. Historic street grids would be altered to accommodate entries and exits. Massive stormwater ponds dug out and fenced off to hold runoff too polluted for waterways. Additional right-of-way purchased for future expansions.
American cities from Detroit (shown here on the right) to San Francisco to Tampa were cleaved into divided neighborhoods by the mile (8). Recovery, if at all, has been slow and the burden of ever-present expansion plans or maintenance projects continues to hang over those who remember what their neighborhoods felt like without the white noise of traffic or the black carbon soot on their windows.
I-275 Under Construction Looking North at Columbus Drive c.1958 (Tampa, FL)
I-275 Completed Looking South at Columbus Drive c.1960 (Tampa, FL)
Aerial View Overlooking I-275 & Ashley Drive Exit (Tampa, FL)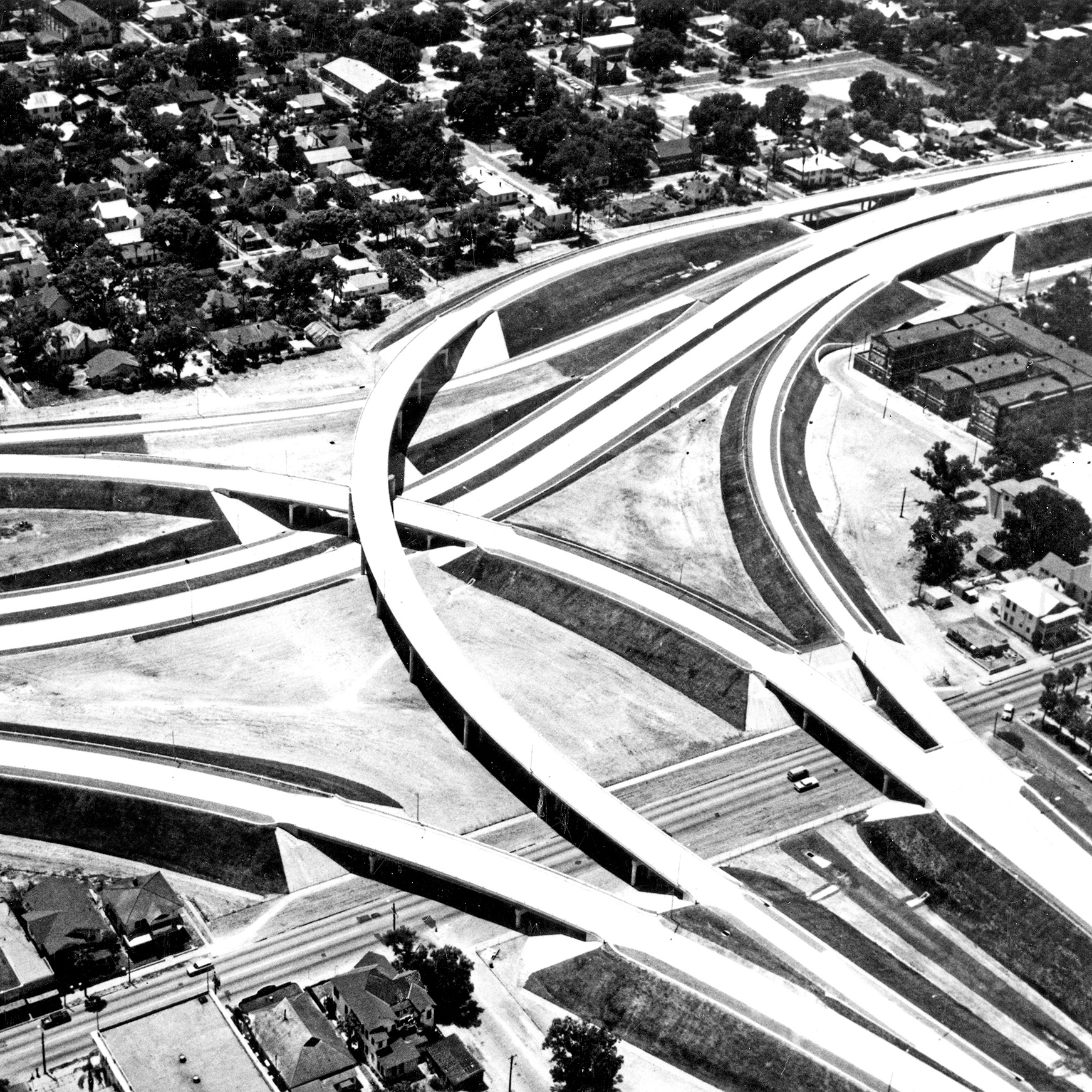 LAND OF OPPORTUNITY
Disruptive and divisive interstate construction of this scale is no longer an accepted practice among many State Departments of Transportation, and -- until 2016 -- the Federal Department of Transportation, as well as, most professions ranging from urban designers to transportation planners to medical experts. Under former Secretary Anthony Foxx, the U.S. Department of Transportation released a three-pronged "Ladders of Opportunity" initiative for the congruent expansion of "economic opportunity and socioeconomic mobility throughout America." The "Ladders of Opportunity" initiative focused on three aspects of major infrastructural projects: work, connect, and revitalize.
Increasingly in the United States, communities are beginning to follow those three aspects and undo the impacts of interstate construction through removal and re-connection via multi-modal or severely reduced roadway alternatives. Therein lies the opportunity for Tampa to take the lead among major American cities. It is not enough to simply regain what was once lost. We have an incredible opportunity to reinvent the character and culture of a region and a profession. The reconfiguration of the I-275 corridor simultaneously represents the single best opportunity to invest in mobility for generations, the greatest possibility for equitable growth within the City of Tampa, and arguably the most significant example of urban interstate removal in the country.
This project is an attempt to illustrate why, how, and what that might look like. It is by no means a finished product and, if it were to be realized, would require years of planning, design, studies, and community input. Converting 11 miles of I-275 into the future spine of Tampa starts with a conversation.
Let's talk about it.